Welcome back to News From The Porch! This week, we're highlighting The Front Porch's 'Roots & Wings' outreach program.
What is Roots & Wings?
The mission of The Front Porch is to connect everyone through music. To achieve our mission, we strive to provide high-quality music education to those who couldn't access it otherwise. Our Roots & Wings outreach program sends teaching professionals out into the community to help all of Charlottesville's youth share in the groove. Together, we can ensure that the joy of music is available to all and sustained for generations.
Since 2017, over 700 children have been a part of the Roots & Wings program. We've brought music education directly to kids in places like Boys and Girls Clubs, community centers, public schools, and at the Blue Ridge Juvenile Detention Center. Unfortunately, COVID required us to put the Roots & Wings program on pause, and hundreds of students in the Charlottesville area lost access to music education.
However, our hiatus during COVID had a silver lining: it gave us time to brainstorm new ways of reaching our community, and the opportunity to form new partnerships! We're back in the community this fall, working with more students than ever. Keep reading to check out our updates and learn why early-childhood music education matters!!
ROOTS & WINGS 2021 Updates

Firstly, Roots & Wings features a WONDERFUL new team of staff and teachers!!! The Front Porch recently hired Melissa Mossinghoff as our new Director of Community Outreach, and her impact has already been phenomenal. In just a few weeks, Melissa established or rekindled partnerships at the YMCA, Charlottesville City Schools, and Boys and Girls Clubs and got us back out into the community. We are thrilled to have Melissa on our team and growing our program.
We also have an all-new cast of teachers for Roots & Wings. Meet them below! In Melissa's words,
"We've got a really talented group of teachers, to see them work their magic with the kids is amazing."
Roots & Wings Teachers 2021
Erynn McLeod                                                          Mark Williams                                                    
singer/songwriter, guitarist                                   singer/songwriter, actor
Theo Herrin                                                                Jack Tierney
singer/songwriter, guitarist                                    singer/songwriter, guitarist
Emily Ellis                                                                  Lillie Williams
musical theatre vocalist                                        West African dance and song
Where is Roots & Wings?
We strive to bring our music education directly to the children who need it most by collaborating with well-established partner organizations specifically serving low-income families. Because of COVID, we've decided to focus our efforts on pre-k and elementary aged students this year.
PRE-K
Currently, Erynn and Jack explore sound and rhythm with pre-k students at the Monticello Area Community Action Agency (MACAA) Head Start classrooms. Meanwhile, Theo and Emily enthrall students at the Shining Star Preschool at the Jefferson Area Board for Aging (JABA) and at the YMCA Early Learning Center at The Jefferson School.
Students explore the wonderful world of music by grooving to developmentally appropriate songs, learning basic musical concepts, and understanding melody by using their voices. None of these schools have dedicated music programs.
ELEMENTARY
At the elementary level, students continue moving and grooving while learning about musical structure, dance, and growing their communication skills.
Lillie explores West African music and dance with elementary school youth at the Boys & Girls Clubs at Cherry Avenue and Jack-Jouett. 
Mark teaches contemporary songs and theater activities at the YMCA-run aftercare programs for the Charlottesville city schools located at Burnley-Moran, Clark, Greenbrier, Jackson-Via, and Johnson elementary schools.
More than 75% of these students qualify for free or reduced lunch.
Where do we want to go?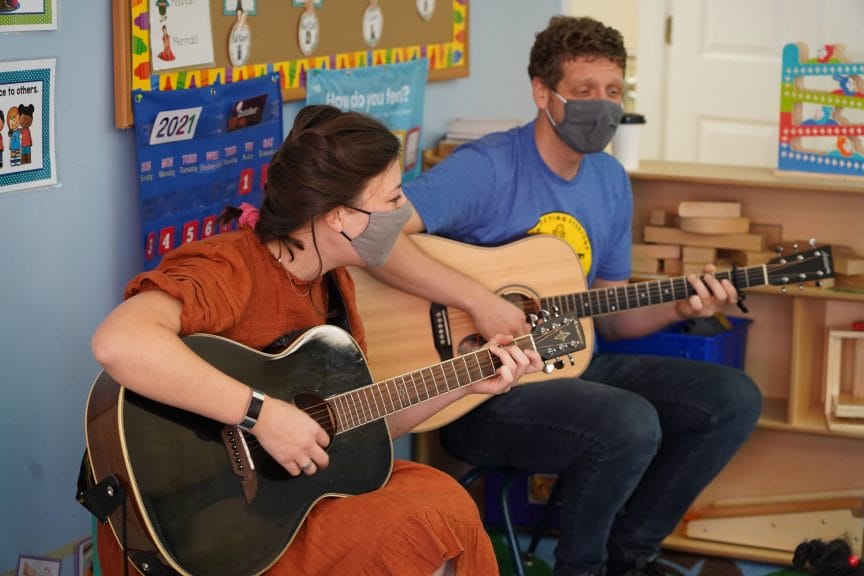 The goal of our Roots & Wings program is to ensure that no child is left behind, musically or emotionally. This means that we want to reach every child who needs our support. We also want to sustain the openness to music and movement that our youngest kids demonstrate, and prevent older children from losing interest in making music.
As the pandemic recedes and we increase our capacity, we hope to keep filling gaps in the community where there is little or no existing music education. Soon, we hope to return to the Blue Ridge Detention Center and rekindle our one-on-one "music mentors" program with middle and high school aged-youth. We also want to open up new partnerships with organizations in Charlottesville who can help spread the love of music through our community.
Our goal is to double the number of visits at existing partner schools in 2022-23 and add five additional early childhood centers in the region. We also have plans to curate a signature Front Porch early-education music curriculum to reach as many kids as possible. The demand for our programming is high; we often have to turn away non-profit groups who request our services. By continuing to increase our capacity, we can ensure that all children are inspired and engaged through high-quality music education. 
Why does music education matter?
As Melissa says,
"It's unifying and grounding and joyous, and you can't help but move your feet and dance. Memories are tied up in music.  I think back to the fact that my summer camp song is still stuck in my head."
Melissa is right, and the research is clear: the arts benefit children's hearts and minds. According to the National Education Association, children who engage with the arts "have better academic results, better workforce opportunities, and more civic engagement." Similarly, a study at the University of Southern California's Brain and Creativity Institute found that musical experiences in early childhood accelerate brain development and strengthen language acquisition and reading skills. According to the National Association of Music Merchants Foundation (NAMM Foundation), learning to play an instrument can improve mathematical learning and increase SAT scores.
Academic achievement isn't the only benefit of music education. Roots & Wings' joyful, active musical experiences develop cognitive skills as well as social and emotional learning. Music impacts child development and skills for school readiness, including intellectual, social-emotional, motor, and language skills. Exposing children to music during early development also helps them learn the sounds and meanings of words. Dancing to music helps children build motor skills while allowing them to practice self-expression. For children and adults, music strengthens memory skills. Youth arts programming improves social and emotional learning, reduces absenteeism, and fosters an engaged school community.
The need:
The need is extreme in Central Virginia. According to the Virginia Education Center's biennial School Readiness Report Card, higher rates of poverty during recent recession years may have contributed to a "genuine decline in the literacy skills of Virginia 5-year-olds" and slowed progress toward closing racial and income-based achievement gaps.
"The front edge of a multiyear wave with high numbers of children in prolonged poverty has reached school age," the report reads.
"Young children with prolonged exposure to poverty are more likely to start school already behind and to struggle in their early school years."
Because of its power to foster engagement and connectivity and strengthen academic readiness, early-childhood music education is one important tool to overcome this disparity.
Yet recent NEA studies demonstrate a precipitous decline in arts engagement for students, especially those who live below the poverty line. In Charlottesville, being from a low socio-economic background fundamentally limits access to high quality music programs. The majority of participants at the elite levels in public high schools and after-school programs come from wealthy white families. Many lower-income students opt out of arts programming in middle and high school. And while the city is affluent, fully 24% of Charlottesville residents live in poverty and roughly 50% of City students live below the poverty line, according to 2019 census data.
Roots & Wings is designed to respond to the affects of this crisis by intervening early with music education. We respond to student interest, initiative, and passion, offering students music programming that builds upon their own creativity and curiosity, and sustains a love of music.
Thoughts from the Porch
I recently spoke to Melissa about her thoughts and excitement about our revamped Roots & Wings program:
What's your favorite part of the job?
Melissa: Getting to experience the variety of classrooms, and staying in touch with elementary aged kids. It's fun to just watch them move. Plus, I get entertained by professional musicians for my job –  it's fantastic!
What challenges has COVID presented for the Roots & Wings?
Melissa: Well, obviously COVID shut down the whole program last year. So it was difficult to get everything up and running again, but we used connections from our pre-COVID outreach to get Roots & Wings restarted. We're finding a way to do it! After a year and a half, its finally feeling like its approaching normal with kids being back together again.
What are your goals for the upcoming year?
Melissa: We deepen children's school experience by offering positive and fun experiences with music during their most formative years. I want to reach all of the kids this way. Going in once a week is a nice start, but I want more.
"I want everyone to have these musical opportunities, and to experience the same joy and passion."
How you can help:
The best way to grow our outreach program is by donating! Please consider making a one-time or recurring contribution to the Roots & Wings fund. Your donation can ripple through our community and contribute to a love of music by all.
If you are part of a community organization that feels like you could benefit from music education, please reach out to melissa@frontporchcville.org for more information.
Finally, if you are just interested in taking classes at The Front Porch, you can check out our class page here. Want to listen to live music? Check out our upcoming concerts and events here.
---
Thanks for reading this week's blog! Join us next week as we explore the best methods of practicing your instrument at home. And keep an eye on this page for any new updates, stories, and news from the Porch!